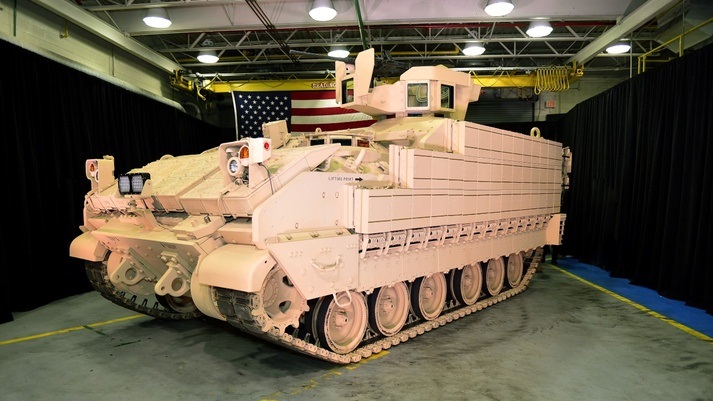 US Army signed new AMPV production deal with BAE Systems.
14/09/2023 | Fabio Di Felice
As announced by BAE Systems, the US Army has finally moved forward with its Armored Multi-Purpose Vehicle (AMPV) program, closing a $1.6 billion deal with the company for starting the full-rate production of the vehicle. The AMPV is the U.S. Army's program to replace the Vietnam War-era and legacy M113 Family of Vehicles. It is essential to the future of the Armored Brigade Combat Team (ABCT) and will fulfill the Army's strategy of protection, mobility, reliability, and interoperability. The AMPV will be integrated with the ABCT and is required to operate alongside the M1 Abrams tank and the M2 Bradley. It has been identified as a top priority for the safety and survivability of soldiers by US Army. The new vehicle leverages aspects of the Bradley Infantry Fighting Vehicle and M109A7 self-propelled howitzer. Its fleet includes five variants — general purpose, mortar carrier, medical evacuation, medical treatment and mission command. All variants are designed to provide enhanced survivability and performance while maintaining commonality with the AMPV family of vehicles and the Armored Brigade Combat Team (ABCT) to minimize operating costs and logistic burdens. AMPV is a mature, low-risk, and cost-effective solution that can rapidly delivers continued combat overmatch capability for the US Army. Due to some questions about the production quality, some years ago, the US service even opted to rebaseline the program and move the production decision from fiscal 2022 to 2023 to provide the company with time to make production line improvements and ramp up numbers. The Army's decision to sign for starting the full-rate production came after an intense series of tests using units from an ABCT, which conducted tactical missions against a near-peer opposing force operating in an electronic warfare and cybercontested environment. Since May 2021 US Army executed testing events to evaluate system and crew vulnerability to kinetic threat engagements, operational and live fire and classified survivability ones.