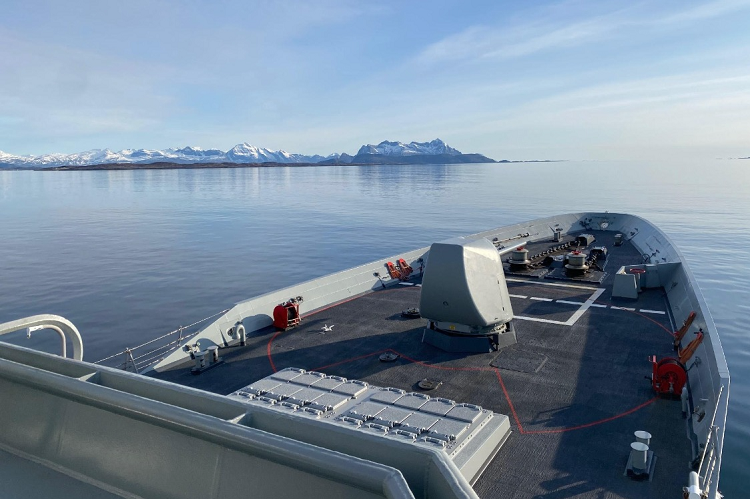 NATO Integrated Air and Missile Defense Exercise FORMIDABLE SHIELD in Northern Europe
17/05/2023 | Fabio Di Felice
The US Sixth Fleet and Naval Striking and Support Forces NATO (STRIKFORNATO) are now in full run mode in Exercise FORMIDABLE SHIELD 2023 in the High North and North Atlantic Ocean. Started on 8 May, the NATO exercise demonstrates Allied interoperability in a live-fire joint and combined Integrated Air and Missile Defense (IAMD) environment, using NATO command and control structures.
It includes 13 NATO and Partner nations, and it is training more than 20 ships and 35 aircraft, 8 ground units consisting of radars, National Advanced Surface-to-Air Missile System (NASAMS), and High Mobility Artillery Rocket System (HIMARS), and approximately 4,000 personnel from across the Alliance. New NATO member Finland is a notable participant in the exercise. Royal Navy Rear Admiral James Morley, deputy Commander STRIKFORNATO and Officer In Charge (OIC) of the exercise reported that this important and complex training event is the premier IAMD and live-fire rehearsal in the European theatre and highlights STRIKFORNATO's proficiency in seamlessly integrating Allied and Partner maritime and air forces into combined operations. He also underlined the strength and unmatched cohesion of our trans-Atlantic Alliance, based on the mutual commitment of the allies, which translates into a credible deterrence and effective defense of the Euro-Atlantic area.
NATO Allies deployed their aircraft to RAF Lossiemouth (UK) to join with RAF TYPHOON and P-8 POSEIDON aircraft: US F-16 and F-35 aircraft, RAFALE M jets of the French Navy and Italian Air Force TYPHOON supported by an Italian Air Force KC-767A tanker. As stated by NATO Public Affair Office, during the exercise, Allied and Partner forces will participate in a series of live-fire events against subsonic, supersonic, and ballistic targets, incorporating multiple Allied ships, ground forces, and aviation assets working across battlespaces to deliver effects and effectively accomplish exercise objectives. This IAMD event will also test 4th and 5th Generation fighter aircraft capabilities.
The exercise has been followed with special attention by the Russian Navy. Last week, the Russian intelligence collection vessel YURIY IVANOV was spotted leaving the Mediterranean Sea through the Strait of Gibraltar. In accordance with open sources, the IVANOV is going to join an increasing Russian presence in the North Sea which in the last weeks has seen the arrival of at least 7 ships operating there, near Norway. Those ships included the frigate ADMIRAL GRIGOROVICH, previously assigned to the Mediterranean Task Force, 4 corvettes, an oiler, and a tugboat.
Follow us on Telegram.