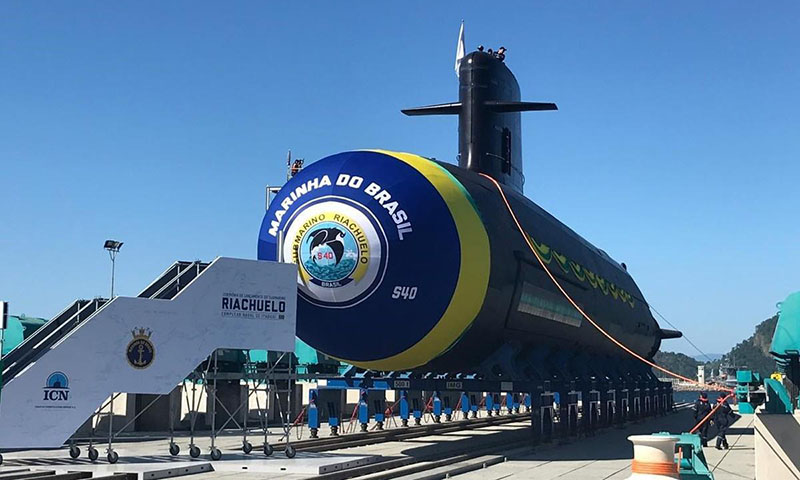 The future main projects of the Brasilian Navy
13/04/2023 | Fabio Di Felice
During the Defense and Security exhibition LAAD 2023, hosted in Rio de Janeiro (Brazil), Admiral Marcos Sampaio Olsen, Commander of the Brazilian Navy, provided details about the national "Programa de Modernizacion del Poder Naval".
This ambitious program is made by sub-programs focused on different naval platforms, weapon systems, and equipments: submarines (PROSUB), class TAMANDARÉ frigates (PFCT), patrol boats (PRONAPA), hydrographic ship (PROHIDRO), anti-ship missiles (MANSUP), and vehicles and equipments for the Marine Corps (PROASDUMUS). The first 2 programs, focused on the TAMANDARÉ-class frigate (FCT) and the RIACHUELO-class submarine (in the picture), are currently the biggest demands of the Brazilian Navy.
According to Admiral Olsen, the FCT will be versatile, modern, with high combat capabilities, and able to conduct missions close to the Brazilian coasts as in the open ocean. Its sensors and weapon systems will also allow conducting multiple "Other than War" operations such as search and rescue, counter-pirates, counter-pollution, and counter-illegal fishing. While the construction in the shipyard of Astillero Brasil Sul in Itajai (SC) of the first FCT follows the schedule, a series of actions will be required in the close future as the receipt of weapons and systems ordered for the ships, and the technological transfers of these acquisitions. The first rapid-fire gun 76/62 mm (Leonardo), for example, is now ready and recently completed acceptance tests at the factory in the city of La Spezia, Italy. The Brazilian Navy Ammunition Factory intends, within the ToT established in the contract, to produce the 76mm ammunition for this cannon in the country, including VULCANO-type intelligent guided, produced by Leonardo. The FCT will also be equipped with the MBDA's SEA CEPTOR surface-to-air missile which will be the first vertical-launch shipborne surface-to-air system in the history of the Brazilian Navy and its arrival brings with it an important doctrinal reformulation, just like the 76mm cannon and its ammunition. The high combat power of these frigates will require control and the 3D radars which may bring the need to purchase more of these systems to equip other ships for the rest of the Brazilian fleet.
The PROSUB and the RIACHUELO class are the main actors during LAAD 2023, as the delivery of the second submarine in late 2023. During the Expo, the Brazilian Navy, Itaguaí Construções Navais (ICN), and the Brazilian Government may also announce the construction of more units of these submarines, or they may begin the construction of new vessels such as the 500-ton patrol boats currently in the budget planning and production phase.
Follow us on Telegram.