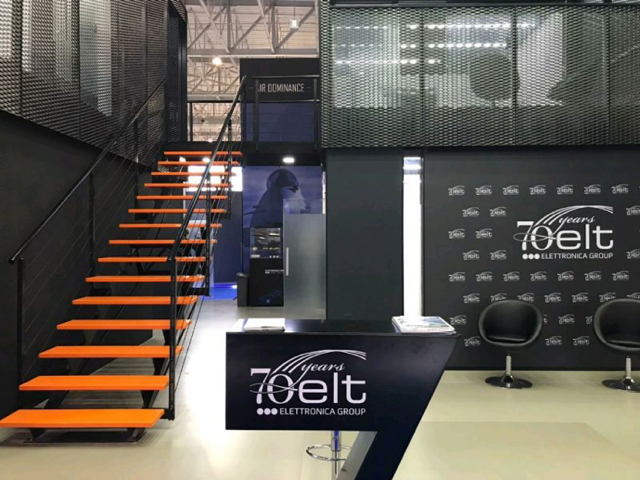 Elettronica Group at Dubai Air Show 2021
15/11/2021 | Redazione
Elettronica has enjoyed a strong relationship with the United Arab Emirates for over thirty years and is looking forward to full industrial collaboration with local partners.
This stretches back to the early 1990s when Elettronica began supplying products to the Emirati armed forces. The intervening years saw the Emirati armed forces develop some of the most advanced Electronic Warfare (EW) capabilities in the region. Elettronica is committed to ensuring that Emirati personnel, vehicles, ships and aircraft are robustly protected with state-of-the-art EW systems. This saves lives and protects platforms. Furthermore, Elettronica helps ensure that the Emirati armed forces can manoeuvre in the electromagnetic spectrum and achieve Electromagnetic Superiority and Supremacy (E2S).
The company began providing EW equipment to the Emirati Army in the 1990s. This collaboration increased over the following years. That same decade, Elettronica started providing aircraft self-protection equipment to the UAE Air Force. The partnership extended in the 2000s to the Emirati Navy.
This year, the company celebrates its 70th anniversary. The past seven decades has seen Elettronica increasingly recognised as a solution provider and capability integrator for electronic attack and self-protection systems, electro-optical and infrared technologies, intelligence surveillance and reconnaissance, cyber security and intelligence, public security, law enforcement and customer support. The company's value proposition acknowledges the central role of EMSO as a domain of warfare like the land, sea, air and space environments, and also the role of EMSO in safeguarding Critical National Infrastructure (CNI) against electronic attack and cyberwarfare.
Over the years the company has embraced emerging technologies like artificial intelligence algorithms which are highly applicable to signal intelligence, system management, and the management and integration of complex systems, as well as supporting both autonomous and human decision-making processes. Furthermore, Elettronica has retained its market dominance thanks to its solid-state countermeasure systems using Gallium Nitride and Quantum Cascade Laser technology.
With its long history and established presence in the UAE the company looks forward to deepening and expanding this local collaboration with a stronger partnership based on industrial cooperation.
Elettronica takes a keen interest in the UAE Vision2030 strategy. The company shares Emirates' ambitions and is keen to work with and support local partners to meet these important goals.
"In recent years we have contributed to the UAE's technological development and skills growth in the EW domain. However, as the new and complex defence challenges of the future require further efforts and strong industrial partnerships, Elettronica Group is eager to boost its thirty-year partnership with the UAE, consolidating its presence in the Country's industry ecosystem" said Enzo Benigni, President and CEO of Elettronica Spa.
Elettronica is proud to exhibit at this year's Dubai Air Show. To find out more about Elettronica's expertise, services, products and abiding commitment to the UAE come and visit our stand (1730).
ADRIAN visits Dubai
Elettronica will showcase its ADRIAN counter drone system at the Dubai Airshow.
Unauthorised and dangerous drone use is an ever-present threat in the Middle East and around the world. Cheap to buy, easy to fly, in the wrong hands these aircraft can wreak havoc. Unauthorised drones above or near an airport can endanger airliners and cause flight cancellations. Drones can deliver contraband over prison walls and border fences. They can even become makeshift missiles delivering explosives.
Although small and difficult to detect, Elettronica can help protect against drones. The company has developed its Anti-Drone Interception Acquisition Neutralisation counter-drone system. Better known as ADRIAN, it is one of the most advanced and cost-effective counter-drone systems available. ADRIAN can be used to detect and intercept drones and can be deployed on a vehicle or at a fixed location.
ADRIAN's architecture combines radar, optronics, acoustic sensors and an Electronic Support Measure (ESM). The drone can be detected electronically using ADRIAN's ESM and radar. Acoustic sensors will detect the sound of the drone's engines and optronics will visually detect the aircraft. ADRIAN fuses all this information together. During this process it determines the type of drone and its location which is clearly presented to the operator. Elettronica incorporated four different sensors in ADRIAN so that a drone could be detected if one or more of the sensors had difficulty detecting the aircraft. For example, a loud environment may drown out the drone's engines. Bad weather may make it difficult to see. Should this happen, the radar and ESM can still detect the aircraft.
Once the drone is detected ADRIAN can use its Electronic Countermeasure (ECM) to intercept the Radio Frequency (RF) signals the drone uses to connect with its pilot on the ground. ADRAIN's ECM can also interrupt the satellite signals the drone uses for navigation. By jamming these links the drone will be forced to either land or return to its launch point. Another useful aspect of ADRIAN is that it can discern where the drone pilot is located. This information can be shared with police and law enforcement.
All aspects of a drone detection and interception can be recorded by ADRIAN for later analysis. ADRIAN is easy to use and ITAR free.
Elettronica is showcasing its Stand-Off/Stand-In Jammer at the DAS
Advanced air defence threats are spreading within and beyond the Middle East. Nations are procuring state-of-the-art radars to protect their territory and equip their air defence systems. These capabilities are integral to regional and global anti-access, area-denial strategies.
Combat aircraft must perform their missions in heavily defended and contested airspace where these threats are ever present. Simply relying on aircraft with low radar cross sections is not enough. Combat aircraft also need robust electronic countermeasures to protect themselves and their strike packages. Elettronica's Stand-Off and Stand-In Jammer benefits from 70 years of expertise the company has accrued in the electronic warfare sector.
Stand In Jammer
Elettronica Group Stand-In Jammer is an innovative, compact, state-of-the-art EW Solution for Active Countermeasures, designed specifically to meet the most demanding requirements for threat identification and countermeasures for aerial and ground target systems. It emerges as a reaction to the current context, where the battle in the electromagnetic spectrum is crucial and emerging threats, that diminish the effectiveness of stealth technologies are jeopardizing current plans to filed large number of "fifth generation" fighters or other combat/surveillance air platforms (manned and unmanned), in a declining defense budgets environment.
The Stand-In Jammer is a compact and lightweight solution hosting Fast Signal Processing algorithms for advanced jamming functionalities (DRFM) and a fully digital receiver (DRX) that allows also to have a tactical overview (in terms of threats), over a very large RF bandwidth.
Elettronica Group is then putting its effort in carrying out this sophisticated system capable to perform smart jamming and approach the enemy Weapon Systems in order to generate false detections or noise with the aim to create confusion and reduce the sensitivity of the Radar receiver, using cutting-edge technologies, and setting the bases to boost the Customer defense capabilities. A solution aimed at providing the appropriate answer to defeat the increasingly capable Air Defense Systems proliferating throughout the world.
Stand Off Jammer
Elettronica Group Stand-Off Jammer (SOJ) solution is a complete RF Jamming system installed on board of airborne platforms flying at a safe distance (i.e., beyond enemy air defense systems coverage) from enemy assets, and provides an effective suppression of enemy surveillance capabilities in a wide band fashion.
The SOJ system provides autonomous Electronic Support as well as Electronic Attack capabilities on Radar context and Electronic Support within COMMs environment, simultaneously managed by proprietary EW C2 Manager. Thanks to the consolidated "state of art" technologies within the Company: Multi-Bit DRXs, Multi-channel DRFMs, Solid State Transmitters and AESA, and considering that SOJ Operation occupies a short amount of the operational time, System is equipped with the appropriate resources to execute also ELINT and autonomous geolocation tasks within the Radar domain.
Then the employment of SOJ, together with the smart management of the electromagnetic spectrum and proper technical and tactical procedures, can enhance the effectiveness of the mission. This high flexible design approach represents the viable solution to the stringent needs of emerging (as well as legacy) threat environments where: fast emitter interception, real-time identification and dedicated Radar Electronic Attack programs constitute vital assets towards mission success.
All-Level, All-Domain Mission Management
Today's and tomorrow's Electromagnetic Support Operations will be characterised by data saturation. Elettronica's EW Centre eases data processing and mission planning.
Electromagnetic Support Operations (EMSO) help sea, land, air and space forces manoeuvre in the electromagnetic spectrum. EMSO is integral to these forces winning and sustaining Electromagnetic Superiority and Supremacy (E2S). Dominating the spectrum is a prerequisite for victory at the tactical, operational and strategic levels.
EMOS brings its own set of challenges. Torrents of data are needed to enable electromagnetic support operations. Hostile radar and communications systems must be identified, located and characterised. The position of friendly forces must be determined from their own radar and radio emissions. At the same time, EMSO effects must be planned and executed to support E2S.
Elettronica's EW Centre is designed to help EMSO at every stage and to support all forces at all levels. EMSO missions can be prepared, followed, debriefed and analysed; all with the same system. The EW Centre can work with Elettronica's EMSO systems or those of third parties. The centre can be used in a stand-alone capacity; to support the EMSO missions of a particular squadron or unit, for example. Alternatively, several systems can be networked. This lets relevant data be shared between centres to assist collaborative mission planning, execution and debriefing.
The use of open architecture enables the centre to be easily upgraded throughout its life. The EW Centre hosts all the necessary databases and threat libraries required to support EMSO. It also supports product development, and can be deployed at training and test ranges, or in laboratories. The centre can also be used to run threat and EMSO simulations.