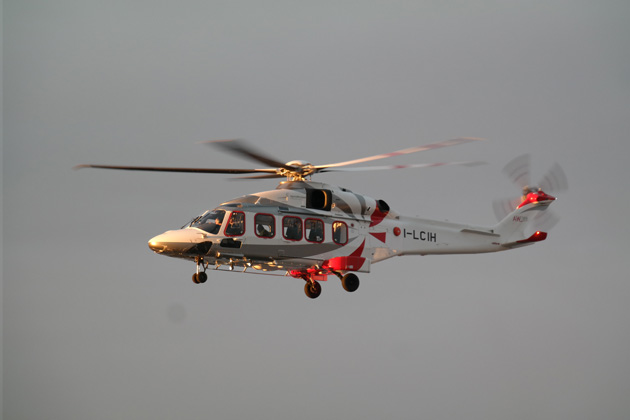 AW189 Completes North Sea Tour
03/12/2014 | Redazione
Finmeccanica – AgustaWestland announced that the new generation AW189 super medium twin engine helicopter has completed a demonstration tour in the North Sea. The tour was deemed a success with more than 60 attendees from leading oil & gas companies, operators and helicopter associations, taking the opportunity to assess the AW189's outstanding capabilities. The tour, which started in Den Helder in the Netherlands and ended in Stavanger, Norway, included dedicated AW189 presentations, static and in-flight demonstrations to give the attendees a comprehensive insight of its modern design, new technologies, safety features, performance capabilities and the support and training services available.
The AW189, the first new generation helicopter in its category in decades in service today, is already flying in Europe, Middle East and Asia providing offshore transport services. Operators based in Europe such as Bristow and Bel Air have already introduced the type into service in the North Sea supporting the oil & gas industry. This operationally demanding region has seen an increasing presence of the best selling AW139 intermediate twin helicopter in recent years, used by many operators for offshore transport duties. The AW189 is an ideal complement to meet longer range, higher capacity requirements while allowing operators to benefit from the unique AW Family advantage, thanks to commonalities across design philosophy, certification and safety standards, mission capabilities, maintenance and training approaches for both types.
The AW189 was designed in response to the growing market demand for a versatile, affordable, multirole super medium twin engine helicopter. The new 8.3 tonne AW189 is optimized for long range offshore transport and SAR missions and has already received orders for 130 helicopters, including options and framework contracts, making it the outright market leader in its class. Customers in the OGP market include many of the world's leading large fleet operators such as Bristow Group, Era Group, Gulf Helicopters and Weststar Aviation Services. Other offshore customers based in Europe include Bond Aviation and Bel Air. Additionally major helicopter leasing companies such as Lease Corporation International, Milestone Aviation Group and Waypoint Leasing have placed orders for AW189 helicopters.
The spacious cabin is configured with 16 seats as standard with the option for a high density 19-seat layout or a long range 12-seat configuration. The cockpit design, incorporating the latest in advanced situational awareness technologies, reduces crew workload and enhances safety. The AW189 meets the very latest international regulatory safety requirements (EASA / FAA Part 29, JAR OPS 3 / EU-OPS). The AW189 is unique in having a 50 minute 'run-dry' capable main gear box, exceeding current certification standards and offering unmatched safety and reliability for long range offshore operations. A wide spectrum of advanced support and training solutions, also including latest generation HUMS (Health Usage and Monitoring System) and Level D Full Flight Simulator, is available to the AW189 operators to maximize operational effectiveness and safety.