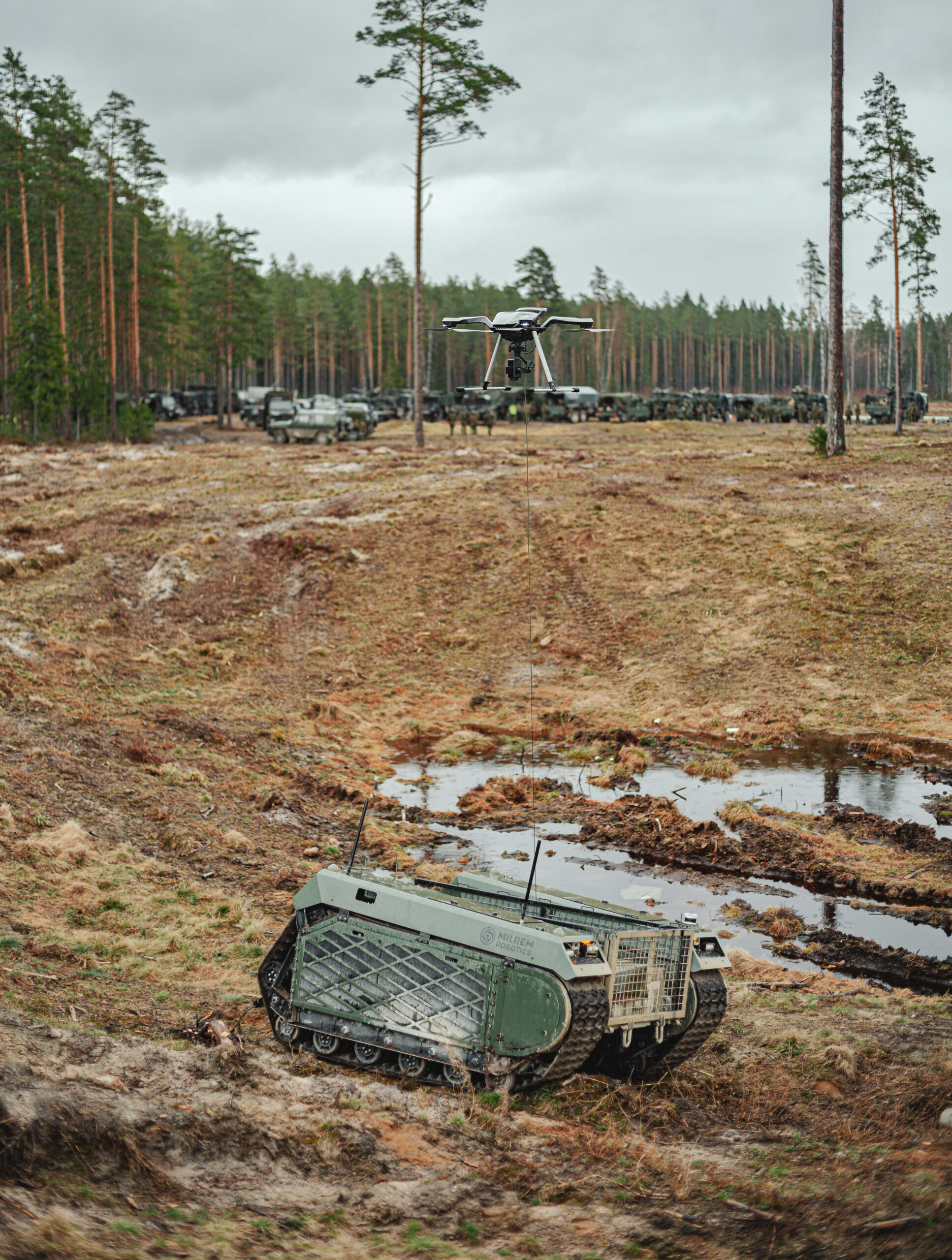 AEC Skyline and Milrem Robotics join forces
25/05/2021 | Redazione
Dutch defence company AEC Skyline and Europe's leading robotics and autonomous systems developer Milrem Robotics signed a Memorandum of Understanding last week to cooperate in the development of unmanned systems.
The MoU that was signed by Stef Have, director of AEC Skyline Holding and Kuldar Väärsi, CEO of Milrem Robotics paves the way for joint development, testing and validation of products and software in the fields of activity of both parties.
Under the teaming agreement AEC Skyline will act as an integration partner of Milrem Robotics products including the THeMIS and Multiscope unmanned ground vehicles as well as the Type-X Robotic Combat Vehicle. AEC will also engage with the Dutch Ministry of Defence as well as with potential civilian customers, primarily in the Netherlands.
With six THeMIS UGVs already being operated by the Royal Netherlands Army's Robotics & Autonomous Systems unit under a concept development & experimentation (CD&E) scheme, both parties now aim to position Milrem Robotics' solutions for future requirements of the Dutch MoD including the use of manned-unmanned teaming.
The parties are looking into requirements that might lead to the integration of new technologies and payloads including (tethered) UAS, sensors and armaments into UGVs. The companies are also analysing how UAS data can enhance AI and autonomous navigation solutions developed by Milrem Robotics and enhance their Intelligent Functions.
"AEC's tethered drone technology is a welcome addition to the list of capabilities required in the development of the European Unmanned Ground System during the iMUGS project, which is why Milrem has invited AEC to contribute with their technology," said Kuldar Väärsi, CEO of Milrem Robotics.
AEC Skyline's director Stef Have added: "we look forward to contributing to Milrem Robotics' range of products, adding significant systems integration expertise to the partnership while engaging with the end-user, both military and civilian."
The companies have already identified counter-UAS technology and the development of a new integrated user interface as specific areas of cooperation.
About Milrem Robotics
Milrem Robotics is Europe's leading robotics and autonomous systems developer. The company has two offices in Estonia, one in Sweden and Finland and shortly one in the Netherlands. Milrem Robotics is the leader of a consortium that was awarded 30,6 MEUR from the European Commission's European Defence Industrial Development Programme (EDIDP) to develop a European standardised unmanned ground system (UGS).
During the project, titled iMUGS, a modular and scalable architecture for hybrid manned-unmanned systems will be developed to standardise a European wide ecosystem for aerial and ground platforms, command, control and communications equipment, sensors, payloads, and algorithms.
About AEC Skyline.
AEC Skyline brings extensive networking and systems integration expertise. The company also represents a number of OEMs including L3Harris Communications Systems West, Haivision, Persistent Systems and Elistair. In addition to critical data solutions, AEC Skyline provides ISR and fast air support to the military, the defence and aerospace industry and to various research institutes. The company's aerial services include close air support, EW, "red air" training, remote sensing and target towing with its fleet operating out of Groningen Airport Eelde and Breda International Airport.
Please find an image here.