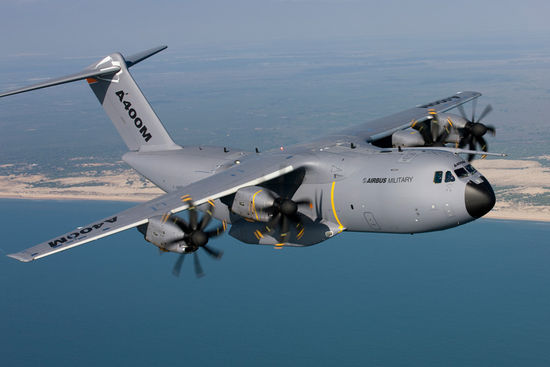 Airbus 9 months results
14/11/2014 | Redazione
Airbus Group reported improved results for the first nine months of 2014, driven by an enhanced operational performance across the company.
Demand for the Group's products remains strong overall with a net book-to-bill for commercial aircraft above 1 at the end of September, already fulfilling the full-year target, and continued momentum seen in defence and space. Group order intakein the first nine months of 2014 was € 78.7 billion (9m 2013: € 137.0 billion), with the order book worth € 765.4 billion on 30 September 2014 (year-end 2013: € 680.6 billion). Airbus received 791 net commercial aircraft orders (9m 2013: 1,062 net orders). Net order intake at Airbus Helicopters was 208 units (9m 2013: 276 units), including 19 Super Pumas. Airbus Defence and Space's order intake by value rose 16 percent, with strong demand seen for light and medium transport aircraft and third quarter contracts including three telecommunications satellites.
"An improved operational performance drove revenues and profitability higher over the first nine months of 2014. We achieved key operational targets such as the certification of the A350 and first flight of the A320neo while improving our overall cash flow profile," said Airbus Group CEO Tom Enders. "Nevertheless, keep in mind that going forward we still face a number of challenges such as the transition to the A330neo and the ramp-up of the A350 and A400M programmes, which continue to require strong management focus."
Group revenues increased four percent to € 40.5 billion (9m 2013: € 38.9 billion). Commercial Aircraft revenues rose 5.5 percent, reflecting the delivery mix with 21 A380s delivered compared to 14 in the first nine months of 2013 and 443 aircraft delivered in total (9m 2013: 445 deliveries). Revenues at Helicopters rose three percent with 295 deliveries (9m 2013: 312 units), including the initial EC145 T2. Defence and Space's revenues were stable with two successful Ariane 5 launches in the third quarter and another taking place in October. In mid-November, the Philae lander of the Rosetta spacecraft performed a world first by successfully touching down on a comet.
Group EBIT before one-off – an indicator capturing the underlying business margin by excluding material non-recurring charges or profits caused by movements in provisions related to programmes and restructurings or foreign exchange impacts – improved to € 2,590 million (9m 2013: € 2,320 million). Commercial Aircraft EBIT before one-off reached € 1,780 million (9m 2013: € 1,712 million), driven by operational improvement, including progress on the A380 programme towards breakeven, and the favourable evolution of maturing U.S. dollar hedges despite higher research and development expenses and A350 XWB support costs. Helicopters' EBIT before one-off was € 241 million (9m 2013: € 217 million), reflecting the Super Puma recovery. Defence and Space's EBIT before one-off was € 370 million (9m 2013: € 356 million). Headquarters/Eliminations and Others' EBIT rose to € 199 million (9m 2013: € 35 million) and included the sale of the Paris Headquarters building in the first half of 2014. Group EBIT before one-off return on sales was 6.4 percent (9m 2013: 6.0 percent).
The A350 XWB programme is gaining momentum with EASA and FAA type certification achieved and remains on track for entry-into-service by year-end. The Group continues to work on the efficient production ramp-up with the focus on maturity and recurring cost convergence. The A320neo made its first flight in the third quarter in line with the initial launch schedule. Entry-into-service is expected in the fourth quarter of 2015. At Helicopters, the EC175 is progressing towards entry-into-service in the final quarter of 2014. The restructuring programme at Defence and Space is on track while the outcome of the portfolio review was announced in September. Resulting disposals are under preparation. The A400M programme industrial ramp-up is ongoing and entering into progressive enhancements of military capabilities but with some delays incurred. The sequence of progressive enhancements and deliveries is under negotiation with customers and related costs, risks and mitigation actions are under assessment. A contractual termination right became exercisable on 1 November 2014. However, management judges that it is highly unlikely that this termination right is exercised. Four aircraft have been delivered this year with first deliveries now being prepared for the U.K. and Germany.
Reported EBIT increased 21 percent to € 2,583 million (9m 2013: € 2,131 million) with one-offs limited to a € 7 million charge from the dollar pre-delivery payment mismatch and balance sheet revaluation. The finance result was € -612 million (9m 2013: € -435 million) while net income rose to € 1,399 million (9m 2013: € 1,203 million), or earnings per share (EPS) of € 1.79 (EPS 9m 2013: € 1.51). Net income and EPS included € -178 million of negative foreign exchange revaluation before taxes, particularly in the third quarter. Group self-financed R&D expenses totalled € 2,376 million (9m 2013: € 2,152 million). Free cash flow before acquisitions improved significantly to € -2,090 million (9m 2013: € -4,749 million), reflecting tight cash control while investing in production and development programmes. Third quarter free cash flow before acquisitions was positive at € 180 million (Q3 2013: € -686 million). The net cash position on 30 September 2014 was € 5.3 billion (year-end 2013: € 8.5 billion) after the 2013 dividend payment of € 587 million and € 349 million pension plan contribution. The gross cash position on 30 September 2014 was € 12.4 billion.
Outlook
As the basis for its 2014 guidance, Airbus Group expects the world economy and air traffic to grow in line with prevailing independent forecasts and assumes no major disruptions. In 2014, Airbus deliveries should be about the same level as in 2013, including the first A350 XWB delivery.
Net commercial aircraft orders will be above the level of deliveries. Assuming an exchange rate of € 1 = $ 1.35, Airbus Group's revenues should be stable compared to 2013.
Using EBIT before one-off, Airbus Group expects moderate return on sales growth in 2014. The 2015 return on sales target of 7-8 percent is unchanged pre A330neo development, which is assessed to have a net impact of around -70 basis points. The EBIT and EPS performance of Airbus Group will depend on the Group's ability to limit "one-off" charges. Going forward, from today's point of view, the one-offs should be limited to potential charges on the A350 XWB programme and foreign exchange effects linked to the pre-delivery payment mismatch and balance sheet revaluation. The A350 XWB programme remains challenging. Any change to the schedule and cost assumptions could lead to an increasingly higher impact on provisions.
On A400M, negative cost and risk evolution mostly driven by military functionalities challenges, delays in aircraft acceptance and industrial ramp-up together with associated mitigation actions are under assessment and will be finalised for the 2014 full year accounts.
Airbus Group is targeting breakeven free cash flow before acquisitions in 2014.