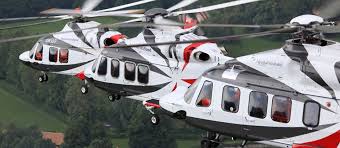 New contract for Finmeccanica
15/10/2014 | Redazione
Finmeccanica – AgustaWestland has signed a contract with Beijing Automotive Industrial Corporation (BAIC) of China for the purchase of 50 AgustaWestland helicopters of various models for parapublic missions. The contract, that was signed today in Rome by Finmeccanica CEO and MD Mauro Moretti and BGAC (Beijing General Aviation Co) Chairman Xu Heyi, is valued around EUR 400 million.
The contract, signed in the presence of Italy's Prime Minister Matteo Renzi and China's Prime Minister Li Keqiang, marks the first step of a future strategic partnership between Fimeccanica - AgustaWestland and BAIC to provide also training, spare parts, technical support and customization. The contract, that includes training, spare parts and technical support, excludes customer selected options and mission equipment.
Mauro Moretti said "The contract confirms the steady growth of Finmeccanica – AgustaWestland in the Chinese helicopter market, with over 70 helicopters ordered in the last 12 months that add up to the 60 that had been already ordered by Chinese customers for passenger transport, firefighting and disaster relief. The contract is a testament to Finmeccanica – AgustaWestland's competitiveness in the global market thanks to its high level of technology, especially in such a high-growth market like the Chinese one, that is calling more and more interest from the major manufacturers".
BAIC is one of largest state owned automotive company in China, and is entering the aviation business through its subsidiary Beijing General Aviation Co. Ltd. (BGAC). BAIC has achieved revenues of USD 43.3 billion last year.