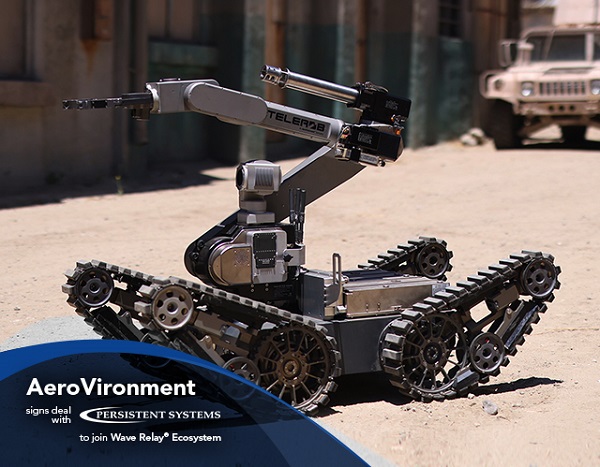 AeroVironment Joins Wave Relay
19/09/2022 | Redazione
Persistent Systems' Unmanned Ecosystem Continues to Expand
AeroVironment's UGV business has joined Persistent Systems' Wave Relay ecosystem, the companies announced on 13 September.
The ecosystem is a growing industrial alliance of developers of unmanned systems and associated sensors that all use the Wave Relay mobile ad hoc network (MANET) solution as their preferred network for C2 and communications functions. "In building the networked battlefield, we are providing the warfighter with increased situational awareness while also reducing size, weight, and power," explained Nick Naioti, SVP Business Development at Persistent. Wave Relay enables tactical teams to receive critical information from unmanned systems and their sensors, facilitating improved decision-making and increasing both soldier safety and effectiveness. In addition, it offers companies the opportunity to move beyond simple point-to-point solutions and build whole constellations of connected air and ground assets, Naioti said.
AeroVironment's ruggedised, all-terrain UGVs perform a variety of dangerous missions, including explosive ordnance disposal, hazardous materials handling and chemical, biological, radiological, and nuclear threat assessment. "Persistent has established itself in the market as a network provider that delivers extended range, high throughput and robustness against radio interference, all of which are critically important to our customers' life-saving missions," said Brian Young, VP and UGV Product Line General Manager at AeroVironment.
Original at Monch Publishing Group